#1 Breast Enlargement Offer In The ClickBank Marketplace 4 Years Running! With Affiliates Earning 75% Commissions And Up To $4.79 Per Click And Pocketing Thousands Of Dollars In Cash!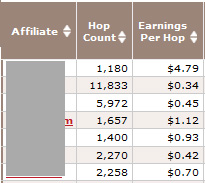 Killer $ Per Hop Earnings

Dear Affiliate,
In the last two months we've been testing and improving the sales letter, testing new fancy graphics adding exit chats and even working on upsells so you can maximise your traffic and gain maximum commissions.
This along with offering 75% commission on every sale has made us the #1 program in this niche on ClickBank.
We've also added loads of new banners, email swipes, review swipes etc to make your life even easier when promoting this winning product.
If you're new to this program then here's a little more info about it...
The product sells for $47 and you get around $35 (after ClickBank's fees and my 25% share)
We're also testing new upsell products ranging from $17 to $47 which you get 50% commission of.
Start Promoting Now...
You can get started promoting right away! Just replace "CLICKBANKID" with your ClickBank username in the link below.
http://CLICKBANKID.boostbust1.hop.clickbank.net/
ClickBank's affiliate tracking cookies are valid for 60 days so you'll get 75% on every sale that you make.
Continuous improvements and split testing is being done with Boost Your Bust. We have used one of the best copywriters for the sales page and already have a high converting page. It currently converts at 1:34 with untargeted traffic and even at 1:8 for certain affiliates that send laser targeted traffic. Our conversion rate is higher than all other products in this niche.
Register Below For Access To Affiliate Tools & Resources
It's important for our affiliates to register below, as we run affiliate contests where you can win cool prizes like iPads, gift certificates and even CASH! Plus we will keep you updated with the best converting affiliate tools and resources.
Home | Contact | Privacy & Disclaimer | Affiliates